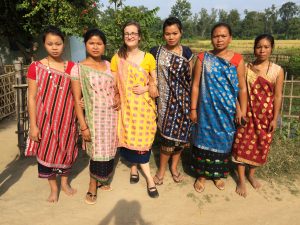 As a part of her further academic education in Social Anthropology, Curiosity Shop's Erika Tanos received Minor Field Studies (MFS) scholarship and conducted an eight-week field work in India towards the end of 2014. The scholarships, funded by Sida, aims to provide an opportunity to gather material for a Master's thesis and acquire experience from a so-called "developing country" and to work in a global context.
"I was offered the opportunity to participate in the research project" The Indian Underbelly: Marginalisation and Migration in the Periphery "- a collaboration between the Department of Social Anthropology, Stockholm University and the Tata Institute of Social Sciences in Guwahati. The project is about internal migration from the Northeast to the South of India. For me this part of India was fairly unknown, quite scary but fascinating. It was a great contrast to Swedish conditions, that would give me some perspective."
For two months, she explored the practices, expressions and the changing patterns of social trust under highly uncertain, conflict-ridden conditions in a tribal setting in Karbi Anglong, Northeast India. "My friends like to joke about it and say that I went to live with the rebels, Erika says".
The concept of trust, related to social capital, has gained prominence since the early eighties but has not been a typical domain of anthropology. In the present-day Western discourse, trust is seen as one of the necessary components for collective action and coordination of social systems. Erika's aim was to investigate how trust operates, is experienced and changes under transformed living conditions and uncertainty. As an one of the first ethnographers taking on the concept of trust, she strived to reveal some of the more hidden, dynamic and complex sides of it.