The White Label interdisciplinary leadership program at Stockholm School of Entrepreneurship was devoted to exploring inter- and transdisciplinarity and innovation for driving change. During more than a year (2013-2014) Curiosity Shop's Erika was trained in a coherent foundation of approaches and methods such as: design thinking, creative problem solving, systems thinking, and future forecasting. Truly this was a form of educational cocaine and a highly addictive experience!
This year's White Label team members were:
Giulia Gaudenzi (Scientist, IT)
Pomme van Hoof (Designer, NL)
Max Kleijberg (Designer, NL)
Jordan Lane (Architect, AU)
Erika Tanos (Ethnographer, HU)
Bettina Schwalm (Designer, DE)
and was orchestrated by professor Ronald Jones
Being a truly cutting-edge program, it provided invaluable opportunities of learning by doing through a range of challenging international projects:
Initiative for Global Health – Stellenbosch March 2013 – Aug 2013
This Interdisciplinary project was initiated by Karolinska institutet and Stockholm School of Entrepreneurship and the aim was to create a virtual platform for the Karolinska institutet Center for Global Health. The project was concluded by a presentation at the University of Stellenbosch faculty of Medicine and Health Sciences in South Africa, followed by a workshop on the future of academic education. We also had the chance to visit a township in Cape Town and catch a glimpse of its harsh realities.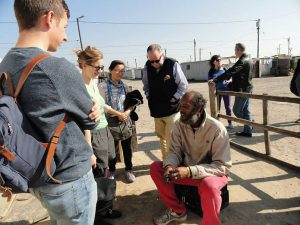 Coriolis building: How users reshape buildings – Paris Mach 2013- June 2013
École des Ponts ParisTech commissioned a brand new energy-efficient building called Coriolis to host the Paris-Est d.School and some other university departments and laboratories. The White Label group was assigned a project with d.School where we aimed at understanding the behavior of the future users of Coriolis. We created "life scenarios" and realistic solutions to design the user-building interface to improve both user experience and the operational energy-efficiency of Coriolis. Research has shown that if the future users are not aware of the building's energy saving technologies, their requirements (in terms of behavior) and the way their behaviors would impact the energy consumption of the building.
Collaborative Research Training Workshop – Accra, Ghana July 2013
The White Label team held a three day long workshop on interdisciplinary leadership, design thinking, systems thinking and creative problem solving methods for scientist from across Africa commissioned by the IFS – International Foundation for Science.