Sveriges antropologförbund anordnade nyligen en konferens med temat mediering på Stockholms Universitet. En av keynote-talarna var Tom Boellstorff, professor i antropologi från University of California, Irvine. Boellstorff studerar de framväxande digitala landskapen och har bl.a. författat boken Coming of age in Second Life där det virtuellt mänskliga sätts under lupp. Under lunchen fick vi åhörare också möjlighet att diskutera utmaningarna och möjligheterna med digital antropologi samt konsekvenserna av digitala interaktioner.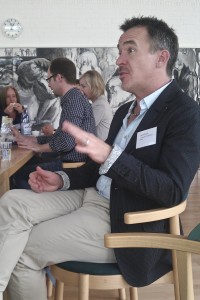 Ett intressant koncept i detta sammanhang är "Ambient Intimacy", ursprungligen myntat av Clive Thompson i The NY Times, 2008. Känslan av att vara nära andra individer kan idag åstadkommas genom sociala nätverkssajter som Facebook, mobiltelefoner s.k. "awareness tools". Vi kan enkelt hålla koll på signifikanta andra "on the go" genom att skicka ett SMS, läsa och kommentera statusuppdateringar etc.
Enskilda statusuppdateringar som att någon äter flingor till frukost eller går ut med hunden kan tyckas lite meningslösa men efter hand aggregeras informationen till en betydelsefull närhetskänsla (om man bryr sig om personen i fråga). När man sedan ses öga möt öga kan interaktionen ske på ett annat plan, man har redan "zoomat in" i varandras liv och har pejl på känsloläge och livssituation.